aorin
Long story short, I've attended my university convocation yesterday, and to commemorate this event, I made a series of icons, animation banners, friends only banners and oversize-bandwidth-consuming group banners XD With the theme, "Doctor of Philosophy in Final Fantasy XII" ;D
Honestly, I wasn't too keen on my own graduation ceremony. While the pomp and circumstance was a treat, it was dreadfully boring in the robbing room earlier that afternoon. I mean, I seriously felt like a canned sardin, and it's not because I was crammed into a room where I have to bump shoulders to move, or the fact that I'm wearing four layers of thick clothing inside the sauna-like room (not to mention, I kept on tripping over the hem of my gown, arms flailing and all, and I probably took out someone's eye with the mortar board X3), or even the fact that the graduands, boys and girls alike, despite being well-educated and smartly dressed, were gabbling like fish-mongers in a fish market :3
Now, what ultimately drove me nuts in the end was not all that (though, a large part of it), but rather it was the silly rule: No drinks allowed until the end of the ceremony 8O In the situation where I'm in a blazing warm room, filled with hundreds of noisy students from my faculty, with a Harry Potter gown sitting on my shoulders, and the last morsel of food that I had was three hours ago; the committee saw fit to impose this rule then =.=|||
I nearly dehydrated along the way TT^TT
Anyhow, while I'm not all cheers and celebration for my graduation, I'd probably go mad with joy if I receive a Ph.D in Final Fantasy XII XD
And btw, strangely, for the last two weeks, half of the post by my f-list were either graduation-related or hospital-related :P Well, congrats to the earlier and well-wishes to the latter :)
[20] Icons
[12] Characters Banners
[04] Friends Only Banners
[04] Group Banners {Small, 810 x 135}
[04] Group Banners {Medium, 1200 x 200}
[02] Group Banners {Large, 1800 x 300}

[+] Comments are nice :)
[+] Credit is even better :D
[+] No Hotlinking :3
[+] Do not modify without permission X3

ICONS

| | |
| --- | --- |
| Group | Group |
| | |
| | | | | | |
| --- | --- | --- | --- | --- | --- |
| Ashe | Basch | Vaan | Penelo | Fran | Balthier |
| | | | | | |
| Ashe | Basch | Vaan | Penelo | Fran | Balthier |
| | | | | | |
| Ashe | Basch | Vaan | Penelo | Fran | Balthier |
| | | | | | |

CHARACTERS BANNER
Ashelia B'nargin Dalmasca
Quote: A New Day Has Dawned.
Spoken in the ending on the Strahl, announcing Dalmasca's liberation.
Flower: Lily of the Valley.
Well, originally, I wanted to let Ashe hold a single rose, but since two other guys were already posing with a huge bouquet of roses, I had to consider other choices :3 Ok, I know no one receives LofV during their graduation ceremony, but, I really liked this little bell-shaped flower XD Besides, this is one of the flowers that doesn't look dangerous in Ashe's hands XP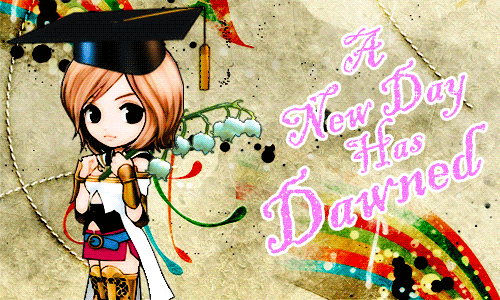 Basch Fon Ronsenburg
Quote: We Are The Arbiters of our Destiny.
Spoken in Giruvegan, after Ashe receives the Treaty Blade.
Flower: White Roses.
Ehehehe... XD This flower choice is rather personal. I admit, I love white roses and insist on receiving it on any occassions (Iris and Lotus is a close second, but...), so, of course, I'll chuck a bouquet of roses into Basch's hands. Though, I honestly think Basch had more of the "approach-me-and-I'll-smack-you-across-
the-face-with-the-most-convenient-thing-
in-my-hand" look XD Well, who can blame him, since I've replaced his favourite sword ;D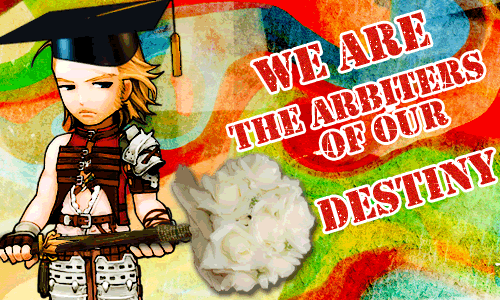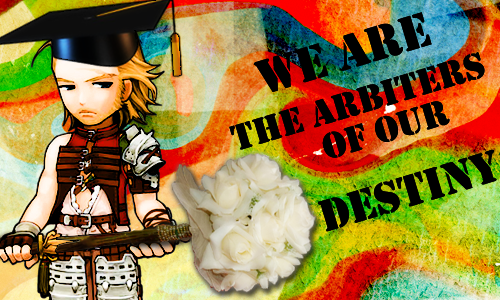 Vaan
Quote: I'm Ready to Find a Purpose... To Find Real Answers.
Spoken in the Garif Village to Ashe.
Flower: Sunflower.
Brighy, sunny, cheery, attention-seeking and always staring at sun, sounds like a flower that would fit Vaan very well ;) Though, my question is that, I just wonder how did Vaan manage to graduate in the first place and what university would actually confer him a doctorate... He looks suprising adorable, and a bit cocky, even though it was hard to fit the square academic cap on him XD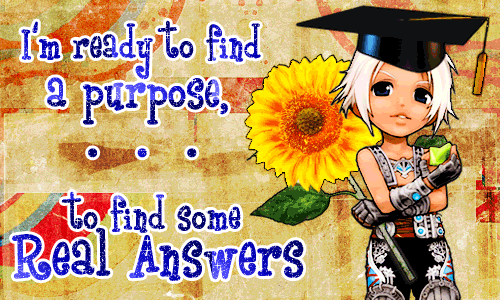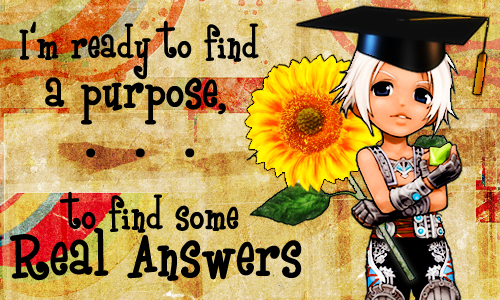 Penelo
Quote: Keep Our Eyes on the Road Ahead.
Spoken in the Epilogue.
Flower: Tulips.
I'm not a big fan of Tulips generally, compared to other types of flowers, but I do think it looks really lovely. And Penelo looks so cuddly and cute holding two stalks of violet tulips XD It was easy to let her hold flowers and still look comfortable in it. I don't know, but I find Penelo to be quite endearing here, and even her line sounds very inspiring ;) She just looks so... GENKI here XD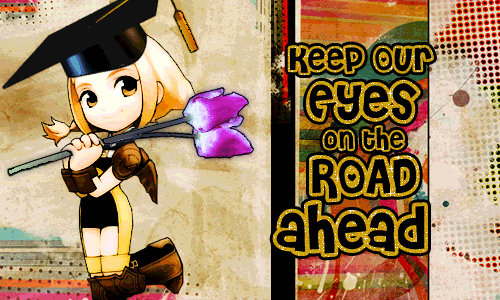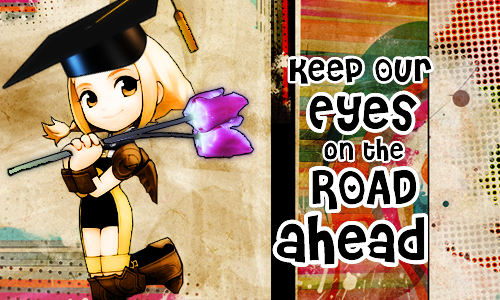 Balthier
Quote: Quite A Performance.
Spoken in the Rabanastre Treasure Room, when he first appeared.
Flower: Red Roses.
Of all the characters, I worked on Balthier's first, as I actually intended to make a congratulatory banner for a friend. And, it wasn't easy to get rid of his gun, and replace it with a bunch of roses. Honestly, I couldn't find a nice picture of a bunch of roses, so I ended up cropping a picture of a "vase" of roses instead. Oh well, as long as Balthier looks comfortable holding... XP Also, it was hard to settle the mortar board on his head, as the back of his hair was porcupine-ish... X3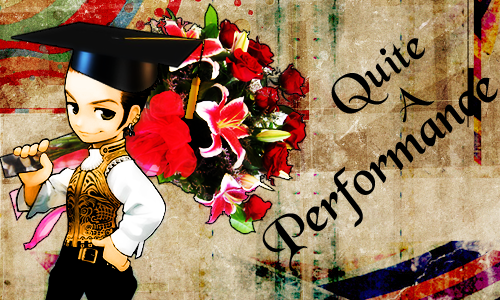 Fran
Quote: I Won My Freedom.
Spoken in Eruyt Village to Jote and Mjrn.
Flower: White Lilies.
She was the hardest to work with. First, I couldn't find a nice, inspiring, uplifting quote from her. Then, her original pose made it quite hard to add a flower to it, and somehow, I got a bit ambitious and wanted to remove her weapon as well. With a picture of only three stalks of White Lilies, I had to duplicate them and resize them until it covers all the spaces of where her bow used to be X3 Surprisingly, I had so much fun working on her cap though, with her long ears, it has to be custom-made XD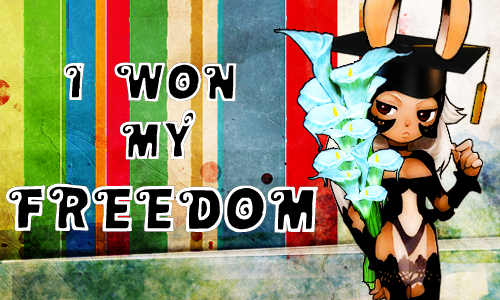 FRIENDS ONLY BANNER





GROUP BANNER (SMALL)




GROUP BANNER (MEDIUM)




GROUP BANNER (LARGE)